This product is intended for those who have received direct introduction from a qualified master. If you have not yet had that opportunity but are seriously interested in the teachings, you may purchase it provided you seek to receive direct introduction as soon as the possibility arises.
New
Sale!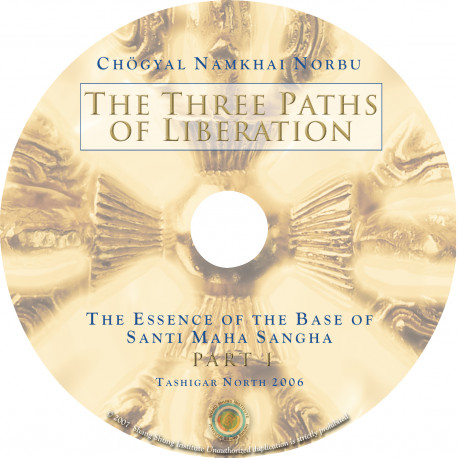 View larger
[Video Download] The Three Paths of Liberation. Part 1 (MP4)
2000000002224
Warning: Last items in stock!
Availability date: 05/21/2020
More info
This is the first DVD in the series The Three Paths of Liberation", a fundamental teaching given by Chögyal Namkhai Norbu in Margarita island, Venezuela, in January-February 2006. The series will include six DVDs in all, explaining the main subjects of the Base of Santi Maha Sangha in essential yet complete way. Language: English Translation: Spanish Subtitles: Italian Este es el primer DVD de la serie Los tres caminos de la liberación ", una enseñanza fundamental transmitida por Chögyal Namkhai Norbu en la isla Margarita, Venezuela, en Enero-Febrero de 2006. La serie incluirá seis DVD en total, explicando los puntos principales de la Base de Santi Maha Sangha en forma esencial pero completa. Idioma: Inglés Traducción: Español Subtítulos: Italiano