Harmony in the space...
This is what the word "Khaita" means. And this is what we learn through Khaita Joyful Dances.
This activity was born in 2011 when Professor Namkhai Norbu discovered some interesting YouTube music videos by contemporary Tibetan artists.
He realized that not only those songs and dances were beautiful, but they also carried a deep meaning, a message from the Tibetan people.
"Since knowledge of Tibetan culture is firmly rooted in me, I feel the need to take special care of that culture, both worldly and spiritual, a need that has been continuously present in my life."

Professor Namkhai Norbu
So Professor Namkhai Norbu started a great work to which he dedicated many years of his life. He carefully selected songs by their melody and meaning. With great patience, he transcribed the lyrics in both Tibetan script and phonetic transliteration using a system called drajyor to share and sing with his students all over the world.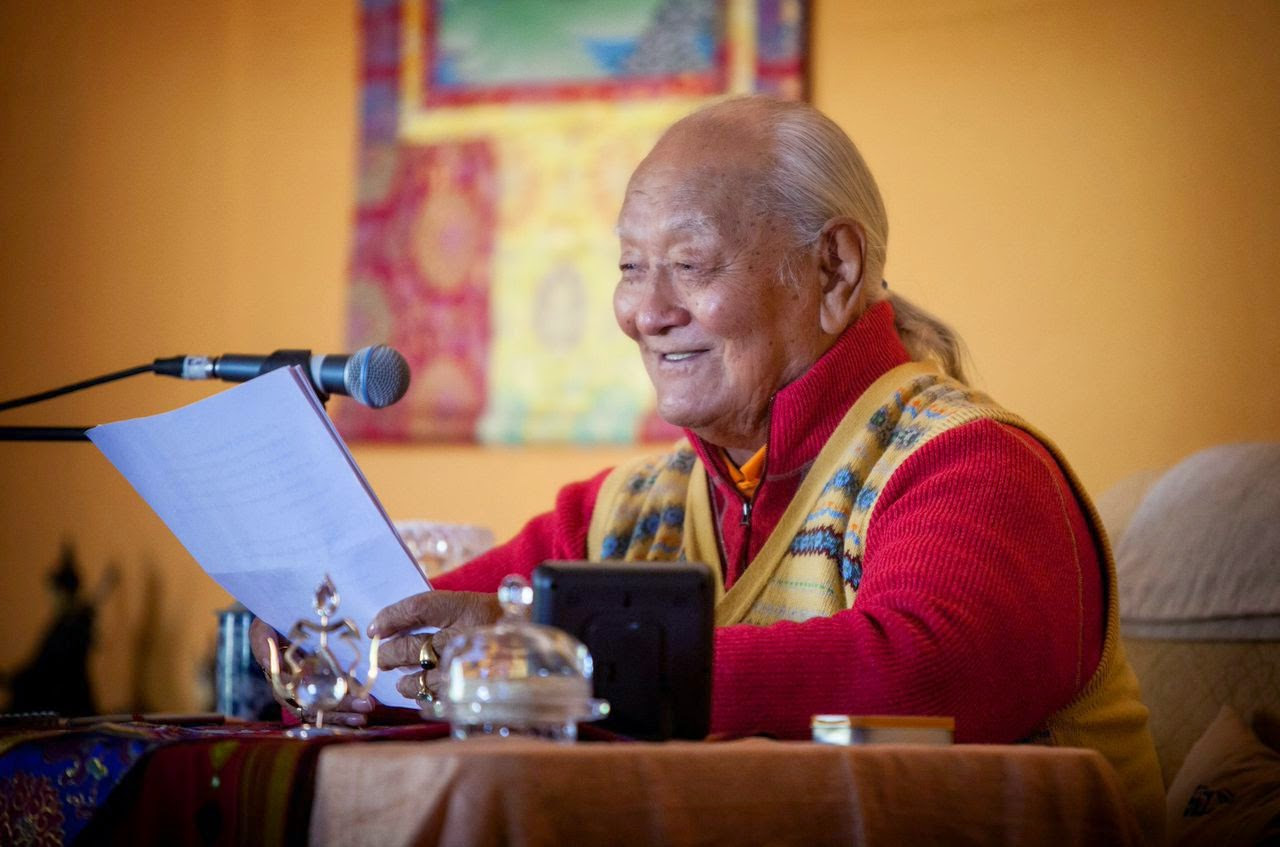 One of the primary purposes of Khaita Joyful Dances is the preservation of ancient culture and language and spreading this message into the world.
But it is not the only one.
Khaita Joyful Dances is a way to discover inner harmony by learning to be present, aware, and relaxed in movement. It is a way to be together with awareness and respect for each other's space.
The word "joy" is used in "Khaita Joyful Dances" in a deeper meaning, because the state of joy, unlike happiness, does not depend on external factors. It is always present within us. Discovering and applying this inner joy in every moment of our daily life is the essence of the teachings that Dzogchen Master Namkhai Norbu transmitted to his students for many years.
Harmony manifests in various ways through the dance.
It is the harmony of our body when we learn to move with presence and joy;
The harmony of our voice that follows the melodious sound of modern Tibetan songs;
The harmony of our mind when we become aware and let go of our worries;
And the harmony of connection when we dance together as a whole.
Through this, we discover the harmony of everyday life as we bring relaxed presence into daily activities.
There are now over 200 Khaita dances and 400 songs compiled in three collections by Professor Namkhai Norbu. The first collection, "Message from Tibet Through Songs and Dances" was made into a book. This book contains a selection of 108 songs including songs (glu), songs for dances (gzhas), and dances (bro) in Tibetan, Drayig transcription, and English translation.
You can find the songs from the other two collections with their words in Tibetan, Drajyor transcription, and English translations, as well as original Youtube videos and dance demonstrations here.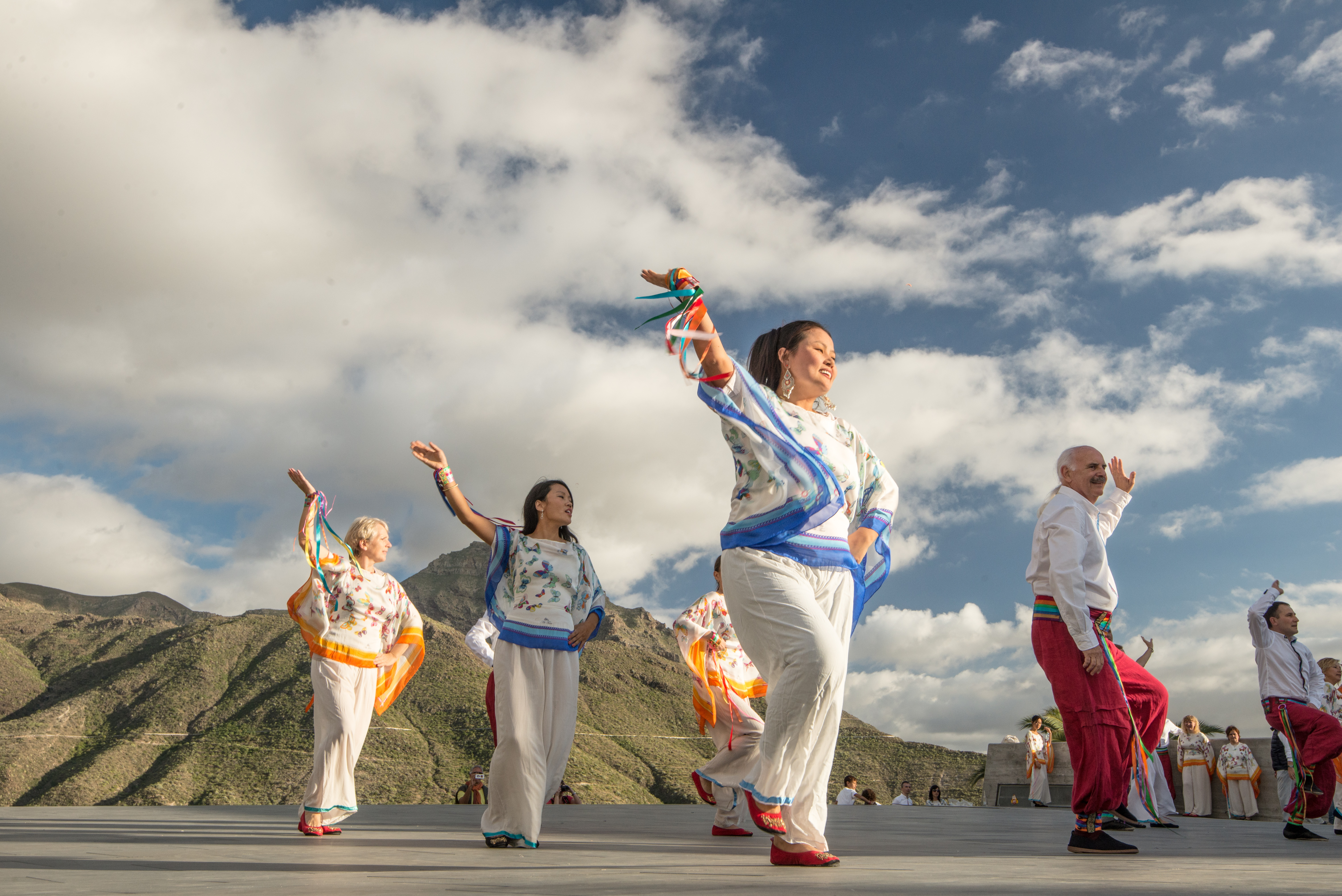 Photo credit: Paolo Fassoli
Khaita Songs and Dances have become appreciated and spread all over the world.
They've been a part of numerous dance festivals, olympiads, celebrations, school classes, parades, local town events, and cultural events. Khaita Joyful Dances performance is a bright, unique show, full of life and celebration. Discover videos of performances, dance demonstrations and explanations, and much more on the Khaita Joyful Dances YouTube channel.
In March 2016, Khaita Joyful Dances joined CID (The International Dance Council), an official umbrella organization for different dance forms in all countries of the World.
"Khaita dances totally embody the spirit and ideas of UNESCO and the UN by bringing together people from all over the world who, through dancing, promote peace, harmony, and understanding. UNESCO gives priority to small and poor countries and even if you come from countries which are neither small nor poor, you promote the ideas of UNESCO considering yourselves citizens of the world. Now more than ever the whole of mankind is threatened by discrimination, lack of respect, the effects of the financial crisis, terrorist attacks and that is why Khaita is so important because it emphasizes respect for humanity and its real values. Khaita is not only a practice, like ballet, tango or flamenco and so forth. There is a "theory" behind Khaita dances because they are strictly linked to a vast culture and history from which they are inseparable. That is why I have a profound respect for what you are doing."

Prof. Raftis, The President of CID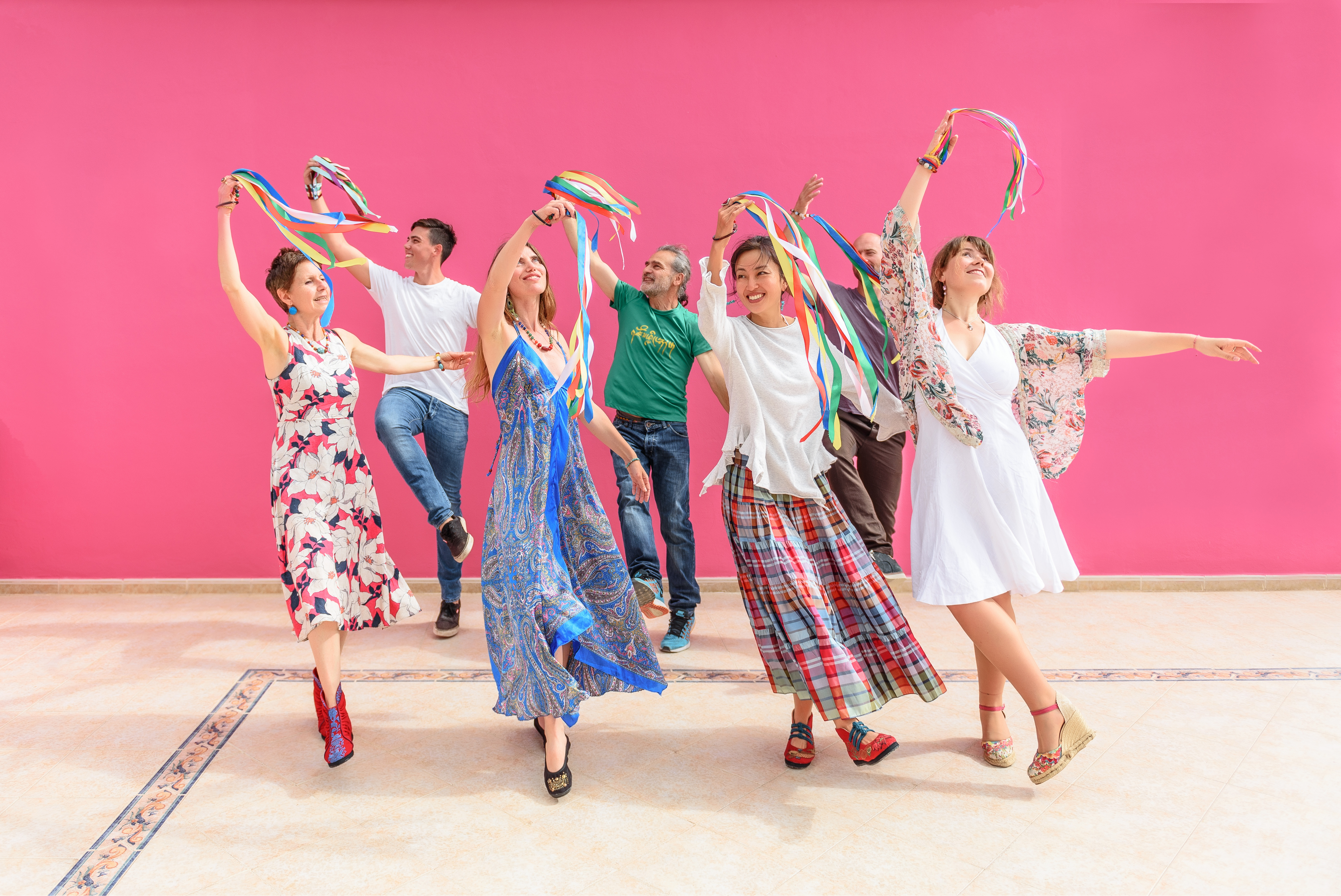 Photo credit: Paolo Fassoli
People from Italy, Spain, Argentina, Japan, United States, Russia, Bhutan, China, Slovakia, Hungary, France, Australia, Greece, UK, Poland, Czech Republic, and many other countries have joined the dance. No matter the age, dancing background, cultural and spiritual traditions, anyone can learn and experience all the benefits of Khaita Joyful Dances.
There are many ways to learn Khaita. Here you can find the ways to make your first steps or continue your dance.
You can learn from detailed Khaita tutorials with international Khaita instructor Adriana Dal Borgo (short example here).
And join free online dancing sessions that can be found in the calendar (in CET time zone) at the bottom of this page.
Happy dancing!